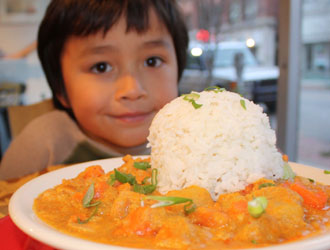 Little Brother trying to decide between Malaysian Curry and teriyaki turkey for Thanksgiving | photograph Frances Kai-Hwa Wang, contributor
My 16-year-old daughter Hao Hao texts me from school, "We should make teriyaki sauce."
Students are not supposed to text during school so my stock answer used to be, "Why are you texting me from class?" Instead, I check the clock and smile. It is lunchtime. I have grown used to these delightful lunchtime missives. She often texts me photographs of her friends' lunches that are so much better than what I packed for her. One friend's mom writes lovely love notes in an elegant cursive every day…on a banana. You can practically hear her chirpy English accent in her curlicues. I try to copy, but my messy Sharpie printing falling off the mottled banana's curves simply is not the same. Still, Hao Hao texts me photographs of the two bananas comparing notes. And her friends are amused by the pseudo banana rivalry.
Today's message, however, is about Thanksgiving Eve. Every year, we celebrate one night early, on Wednesday—hence the name, Thanksgiving Eve—with a big international potluck with about sixty of our closest friends. Our friends bring the most amazing spread, from all corners of the world, and for years we never bothered with a turkey. However, an unexpected gift of a turkey one year challenged me to attempt a teriyaki turkey with sticky rice stuffing (I generally do not cook meat). Last year, I learned how to make teriyaki sauce from scratch.
A Taiwanese girlfriend presses me for my secret recipe, "How long do you cook it?" I don't remember. "What temperature do you cook it at?" I don't remember. "How big of a turkey did you get?" I don't remember. She is surprised to learn that I have only ever cooked a turkey these two or three times. I tell her it was just luck that it turned out. I almost forget that I am supposed to buy it a few days early so it can defrost.
This year, we are as busy as ever with school, work, writing, sports, friends, a sick dog, getting out invitations and creating a Facebook events page too, trying to clean the house before the guests arrive—and my daughter texts me the week before Thanksgiving that we should make teriyaki sauce.
I cannot help but smile.
Teriyaki sauce is not hard to make, but making it from scratch takes a little bit of time, a little bit of care. I have to find the recipe again, make sure I have all the ingredients, smash the garlic, peel the ginger, boil the jars, turn off the computer, put down the phone, turn on the Frank Sinatra. Fun to do with all the kids!
Of course, Thanksgiving (Eve or otherwise) is not really about the food. As I told the children in my most recent presentation on Asian harvest festivals, it really is about the people—all the family and friends we call home. And in this, all of our different cultures really are more alike than not.
In Laurie White's video "Race in this Place: A Community Conversation" currently on exhibit at the University of Michigan Museum of Natural History for the Understanding Race Project: Look at Race in Our Community, I talk about the challenges and rewards of getting past the "international potluck" mentality, to take chances and really get to know people. When we first moved to the midwest, the people who came to our parties used to self-segregate along racial lines, which surprised me. The Caucasians congregated in the living room, the Asians congregated in the family room, and the Asian Americans and African Americans paced back and forth between the two groups. However, over the years, my friends from all my different communities have gradually come to know each other—one person, one recipe, one conversation at a time—and now everyone is crammed into my kitchen with the patched up ceiling and the blue and red Tamang fabric on the wall. And the conversations—in so many different accents and languages—are amazing.
Check out Psy and MC Hammer's powerful cross-cultural collaboration at the American Music Awards for a glimpse of what could be. So awesome!
The secret is homemade teriyaki sauce. And courage.
Note: Recipe for homemade teriyaki sauce here.
Frances Kai-Hwa Wang is a second-generation Chinese American from California who now divides her time between Michigan and the Big Island of Hawaii. She is a contributor for New America Media Ethnoblog, Chicagoistheworld.org, PacificCitizen.org, and InCultureParent.com. She team-teaches Asian Pacific American History and the Law at the University of Michigan and University of Michigan Dearborn. She is a popular speaker on Asian Pacific American and multicultural issues. Check out her Web site at franceskaihwawang.com, her blogs at franceskaihwawang.blogspot.com and rememberingvincentchin.com, and she can be reached at fkwang888@gmail.com.
Written by frances on November 22, 2012
Filed Under: Blog, Frances Kai-Hwa Wang Blog, IMMIGRANT STORIES, LIFE & CULTURE, STORIES, Uncategorized
Tags: Adventures in Multicultural Living, arts, asian, asian american, food, Frances Kai-Hwa Wang, holidays and celebration, multicultural, parenting, stories