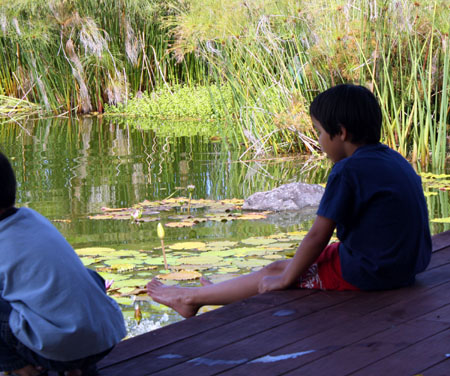 Little Brother dipping his feet into another local pond | photograph Frances Kai-Hwa Wang
Spent the morning with Linus Chao, renowned international artist and official "Living Legend of Hawaii," at his home halfway up the volcano. My daughter Mango is taking art classes with him and his wife this summer. Four hours of Chinese art in the morning with Mrs. Chao, a little lunch, then four hours of western art in the afternoon with Professor Chao. All Mango needs, Professor Chao says, is a little formal instruction, and she will be on her way. The Chaos must be in their 80s. He is Shandong, she is Dongbei, their voices full of the old accents that I love. He is so warmly effusive, shows me everything, never lets me leave. I cannot believe my luck, and I want to soak in every word.
Today he shows me his teahouse. Funny, I have walked around it many times and never noticed it — from the outside, it seems a plain brown house. However, when you walk in through the two Chinese doors with the brass lion knockers, you walk into another world. The room is spacious and sparse, with rich red carpeting, natural wood walls, a low Chinese table, Chinese art on the walls, in front of you all windows overlooking the pond. It has the feel of an old Chinese scholar's house, except with wall-to-wall carpeting.
We walk out onto the wooden deck that overlooks the pond. It was so clean like the deck next to our house after power washing (check out http://hanover-powerwashing.com/). He turns a hidden switch and a waterfall suddenly cascades off the roof in front of me! We are inside the waterfall from the Monkey King's Flower Fruit Mountain! I see it before he even explains. I know it before he even tells me that the name of this house is Xui Lian Wu (a play on Xui Lian Dong). It is so wondrous and magical that I cannot breathe, cannot take my eyes off the lacy curtain of water before me.
We sit on the top step together and watch the water fall. He points out the blue and orange dragonflies that flit over the pond. I spot a golden koi turning in the water. He asks again if I paint — not at all — then invites me to come and write here, where it is quiet. An artist needs that.
He shows me a Du Fu poem on the wall that he calligraphied with his left hand — about a group of old friends in their old age planning to get together for the last time to say good bye — not just to each other but — to the cherry blossoms. He points out his red chop mark in the corner, "floating out to sea," like Qu Ruan, the protesting scholar celebrated by the dragon boat festival, except that he floated away from the politics of China and Taiwan and ended up in Hawaii … in a teahouse that evokes China so well that one would never find it in China or Taiwan, in a teahouse that has been carried halfway across the sea in the longings and memories of one so far from home.
And here I am, too, in this magical hidden space that calls forth a line from my friend Ong Keng Sen's play, Diaspora, "spending one's life trying to find one's way home."
An earlier version of this essay was originally published at PacificCitizen.org.
Frances Kai-Hwa Wang is a second-generation Chinese American from California who now divides her time between Michigan and the Big Island of Hawaii. She is a contributor for New America Media Ethnoblog, Chicagoistheworld.org, PacificCitizen.org, and InCultureParent.com. She team-teaches Asian Pacific American History and the Law at the University of Michigan and University of Michigan Dearborn. She is a popular speaker on Asian Pacific American and multicultural issues. Check out her Web site at franceskaihwawang.com, her blogs at franceskaihwawang.blogspot.com and rememberingvincentchin.com, and she can be reached at fkwang888@gmail.com.
Written by frances on July 12, 2012
Filed Under: Blog, Frances Kai-Hwa Wang Blog, IMMIGRANT STORIES, LIFE & CULTURE, Uncategorized
Tags: Adventures in Multicultural Living, arts, culture, diversity, Frances Kai-Hwa Wang, multicultural, parenting