for dec 2011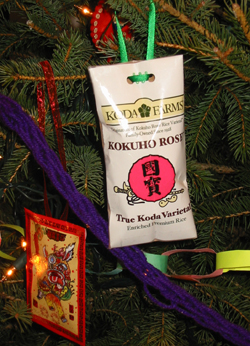 Our Asian American Christmas tree with red envelopes and mini rice bag ornamentsFrances Kai-Hwa Wang | Contributor
Asian American journalist Lisa Ling once said onThe View that as a child she thought Santa liked Caucasian children better than Chinese children because he always left much better and bigger gifts, like stereos, for her Caucasian friends, whereas he only left small gifts, like batteries and toothbrushes, in her stocking.
When I heard that, it was as if I was hearing silver bells. I always got batteries and toothbrushes in my stocking, too. I had grown up thinking that gifts from Santa always had to be small in order to fit inside the stocking.
It was not until I was in my 30's that I discovered that some people received gifts from Santa that not only spilled out of their stockings, but covered the floor and piled up as high as the Christmas tree. Some people did not even bother hanging up stockings by the chimney with care, as they knew their gifts would be bigger than that. Is that allowed?
Two years ago, at the annual Kiwani's Christmas Sing at the Michigan Theater, my friend Lily, originally from Hong Kong, stood up during Q&A and asked Santa what Mrs. Claus' first name was. After a long pause, he answered, "Ruby." My mouth dropped open. Santa did not know. How could this be? I thought it was historical fact that Mrs. Claus' first name was Jessica. She had long red hair. She was a schoolteacher. She fell in love with Kris Kringle when he gave her a doll despite laws against toys made by the cranky Burgermeister with the broken foot. She helped pass letters from the children to Kris Kringle asking for toys which had to be hidden in stockings to avoid detection. They got married under the first Christmas tree, decorated by the animals in the forest. Together, they defrosted the Winter Warlock and helped him learn to "Put one foot in front of the other," after which he fed the reindeer magic corn so they could fly. These historical facts are all documented in the claymation classic, Santa Claus is Comin' to Town. I thought everyone knew these details. Certainly everyone knows her most famous quote, documented in Rudolph the Red-Nosed Reindeer, "Nobody likes a skinny Santa."
I suddenly realized that I had taken all those animated and claymation Christmas specials—Santa Claus is Comin' to Town, Rudolph the Red-Nosed Reindeer, Frosty the Snowman—as ethnographic films. That is how I learned about Christmas.
My children, on the other hand, have a broader understanding of Christmas than I did. They see that the two sides of our family celebrate Christmas differently. Santa is so smart that he knows they will be home on Christmas Eve and at Grandma's house on Christmas Day. Despite my insistence that my children watch these old Christmas cartoons with me every year, their understanding of Christmas is supplemented with The Santa Clause (with Tim Allen), How the Grinch Stole Christmas (with Jim Carrey), and Elf (with Will Ferrell), which they see at friends' houses. We go sing with Santa, too.
Many of our friends are not Christian and so do not celebrate Christmas; instead they travel or they are invited to a friend's home to see what a "real Christmas" in a "real American home" looks like. It is hard to resist Christmas, however, and many report their children begging, "PLEASE can we celebrate Christmas?"
My Indian American friend Sujata's son, however, was smarter than that. One year he asked his mother if they could celebrate Channukah, which was obviously much better than Christmas…eight days of presents trumps one!
Frances Kai-Hwa Wang is a second-generation Chinese American from California who now divides her time between Ann Arbor and the Big Island of Hawaii. She is a contributor for New America Media's Ethnoblog, Chicagoistheworld.org, PacificCitizen.org, and InCultureParent.org. She is a popular speaker on Asian Pacific American and multicultural issues. Check out her Web site at franceskaihwawang.com, her blog at franceskaihwawang.blogspot.com, and she can be reached at fkwang888@gmail.com.
This article was originally published at annarbor.com.
Written by frances on November 17, 2011
Filed Under: Blog, Frances Kai-Hwa Wang Blog, IMMIGRANT STORIES, LIFE & CULTURE, STORIES
Tags: Adventures in Multicultural Living, arts, christmas, culture, diversity, Frances Kai-Hwa Wang, holiday, holidays and celebration, multicultural, parenting