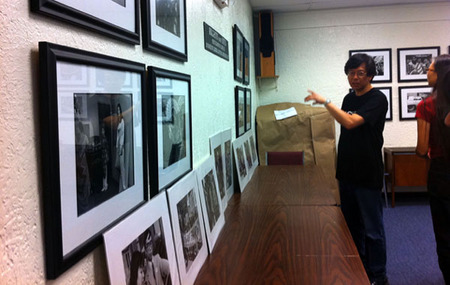 Asian American photojournalist Corky Lee shows his Vincent Chin case photographs exhibited at the Chinese Cultural Center in Madison Heights during the Asian American Journalists Association National Convention | Photograph courtesy of Joz Wang jozjozjoz.com
The Asian American Journalists Association (AAJA) National Convention was held in Detroit this month. I really wanted to attend, since it was home, but unfortunately I was not able to make it. Still, I watched from afar via Twitter, I saw my friends smiling in Twitpix, I connected people to each other via Facebook and email, I read newspaper articles online, and I even received a cellphone call that would have allowed me to listen in on one of the panels (if only I had not been driving at the time). It was a little surreal seeing a photograph in the Detroit Free Press of my real-life friends together with my virtual friends, not to mention hearing about the conversations they had because of my virtual introductions.
One of the highlights of the convention—and one of the reasons it was held in Detroit—was the Vincent Chin case panel which brought together many of the activists who worked on the case in the 1980's, including journalist Helen Zia, documentary filmmaker Christine Choy, attorneyRoland Hwang, and broadcast journalists Ti-Hua Chang and Richard Lui. There was a photo exhibit of Corky Lee's iconic photographs, and showings of both documentary films, "Who Killed Vincent Chin" and "Vincent Who?"
Asian American blogger JozJozJoz tweeted, "I've watched 'Who Killed Vincent Chin?' at least a dozen times & I always cry when I see Lily Chin ask for justice for her son. #AAJA"
A small group tweeted about an impromptu pilgrimage to see the Vincent Chin plaque in Ferndale placed by the State Bar of Michigan. I immediately tweeted back, "Across the street 'The Post Bar' (formerly Golden Star) is where all the Vincent Chin organizing took place. Did you go in?"
Another group went to Greenfield Village and Henry Ford Museum, posting photos of sheep and trains. Worried they might miss the best part, I tweeted, "Did you see the Rosa Parks bus? Make sure to sit in her seat before you leave Greenfield Village! #AAJA"
Detroit is so cool that I wanted to show her off (albeit in absentia). It took me so long to discover and appreciate some of these hidden treasures that I wanted to make sure our guests found them.
That is how I see this column, a chance to reveal a little of my world to you. For some readers, it is a chance to hear about issues that are important to them but not often voiced in the mainstream media. For other readers, it is a chance to see the perspectives of other communities. My hope is that seeing into each others' lives can help us better understand each other and find common ground.
New US Ambassador to China Gary Locke inadvertently did just that on his way to his new post in Beijing by being captured on film at the Seattle Airport Starbucks carrying his own backpack, buying his own coffee, and trying to use a coupon no less! The photo unexpectedly went viral, reposted over 40,000 times in two days.
China is charmed by the down-to-earth-ness of this Chinese American high official who carries his own backpack and buys his own coffee instead of having lackeys do everything for him, as is the norm in China. No planned PR stunt or goodwill game could have conveyed the strength of his Americanness as eloquently.
This reminds me of John F. Kennedy's idea to open up immigration in 1965 to show the then-Soviet Union the power of American ideals by letting people "vote with their feet" for democracy over communism. He also created the Peace Corps (here at the University of Michigan) to show the world firsthand what America was all about.
Frances Kai-Hwa Wang is a second-generation Chinese American from California who now divides her time between Michigan and the Big Island of Hawaii. She is an editor ofIMDiversity.com Asian American Village, lead multicultural contributor for AnnArbor.com, a contributor for New America Media's Ethnoblog, and a contributor for Chicago is the World. She is on the Advisory Board of American Citizens for Justice. She team-teaches "Asian Pacific American History and the Law" at University of Michigan and University of Michigan Dearborn. She is a popular speaker on Asian Pacific American and multicultural issues. Check out her website at franceskaihwawang.com, her blog at franceskaihwawang.blogspot.com, and she can be reached at fkwang888@gmail.com.
This article was originally published at annarbor.com.
Written by frances on August 31, 2011
Filed Under: Blog, ETHNIC MEDIA, Frances Kai-Hwa Wang Blog, STORIES
Tags: Adventures in Multicultural Living, arts, culture, diversity, Frances Kai-Hwa Wang, multicultural, parenting