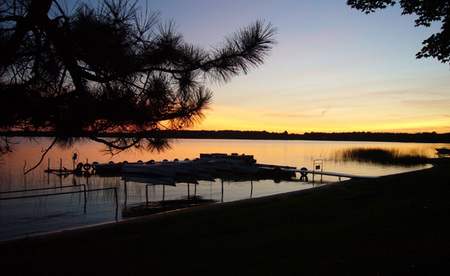 The sunset seems a little bit different in Interlochen, Michigan than at home. | Photograph courtesy of my daughter Margot
At the annual Band Camp concert at Interlochen a few years ago, my friend Shih-yi joked, "This would be a good day to rob Ann Arbor. Half the town is here."
After a summer of family time, it is quite the plunge back into the cold refreshing waters of school life up at Interlochen where (some configuration of) the Huron, Pioneer and Skyline bands, orchestras, and choirs perform every year after a week of band/orchestra/choir camp — not only for the children who are summoned by the bugle call at 6:30 every morning, but also for the parents and siblings who have not seen all the other parents and siblings all summer.
The Huron Music Association has a bus for folks to ride up to Interlochen so that we do not all have to drive, but I sort of like the drive. I load up Ella Fitzgerald and Frank Sinatra songs in my CD player or iPod and I sing at the top of my lungs for four hours up and four hours back.
Driving long distances alone makes me nervous (I am always — justifiably — worried that my car is not going to make it), but once I manage to make it there and back successfully, I find that I am recharged, revitalized, renewed.
There is something about going someplace new to see things from a new perspective.
Last spring, I went to Chicago for a class with Community Media Workshop, and I brought my daughter M along to look at colleges. We stayed with my friend Celina who used to live in Ann Arbor. Our daughters used to play in the sandbox together at Wurster Park and roll down the hill together in bare feet. Now here they are, with spiky hair and cool jewelry, looking at each other with a vague recollection.
For breakfast, Celina made us English muffins with fried egg white. Delicious. My daughter M was baffled why anyone would throw the egg yolk down the drain like that, quietly asking me, "What is the point of eating only the egg white? The yolk is the best part."
I laughed, "That is why they are skinny and we are not."
Upon returning, I was inspired to copy Celina's egg (Mc)muffins too, albeit with the whole egg. Alas we will never be thin. However, it was a nice shift in our routine, one we would not have made if we had not stayed with her.
Sometimes the shift comes not from travel, but from a change in season, in calendar, even in someone else's calendar.
Ramadan is this month, and although I know there is much more to Ramadan than food (or lack of food in this case), food is an easy, noncontroversial entry point into culture (except forWhole Foods, which was caught not promoting Ramadan, merely featuring their halal products). I like studying the many interesting recipes with dates, eggplants, chickpeas, yogurt, etc., circulating now for iftar.
Even if we are not observing Ramadan, we still have it on our minds and can use it to shake up our normal routines, to find similarities, to better understand each other.
This year's Asian American Journalists Association Convention was in Detroit and opened with a reception at the Arab American National Museum in Dearborn. The out-of-towners were so excited about the wonderful Middle Eastern food we have here in Michigan. We are used to it, but for them it was a treat, a change, something new.
Veteran Asian American journalist Emil Guillermo joked on Twitter: "Opening celebration is alcohol-free because of Ramadan. No problem for Asians.#aaja"
Frances Kai-Hwa Wang is a second-generation Chinese American from California who now divides her time between Michigan and the Big Island of Hawaii. She is an editor ofIMDiversity.com Asian American Village, lead multicultural contributor for AnnArbor.com, a contributor for New America Media's Ethnoblog and a contributor for Chicago is the World. She is on the Advisory Board of American Citizens for Justice. She team-teaches "Asian Pacific American History and the Law" at University of Michigan and University of Michigan Dearborn. She is a popular speaker on Asian Pacific American and multicultural issues. Check out her website at franceskaihwawang.com, her blog at franceskaihwawang.blogspot.com, and she can be reached at fkwang888@gmail.com.
Written by frances on August 24, 2011
Filed Under: ETHNIC MEDIA, Frances Kai-Hwa Wang Blog, LIFE & CULTURE
Tags: Adventures in Multicultural Living, arts, culture, diversity, Frances Kai-Hwa Wang, holidays and celebration, multicultural, parenting