Bollyfit creator and CEO Anuja Rajendra organized a Bollywood flash mob dance performance at Ann Arbor Summer Festival | photograph Frances Kai-Hwa Wang
My mom once emailed me a link to the most amazing YouTube video —A Random Act of Culture sponsored by the Knight Foundation: Handel's Messiah unexpectedly and apparently spontaneously performed by 650 opera singers disguised as normal people in a beautiful Christmas setting in Philadelphia.
I have always been completely entranced by the idea of musicals in which people are suddenly so overcome that they burst spontaneously into song and dance. I could not stop watching YouTube videos of other Random Acts of Culture and flash mob dance performances around the world, my (not-so-) childhood dreams of Gene Kelly and Frank Sinatra musicals come to life, including an August 2009 Bollywood Hero flash mob dance performance in New York Times Square, with its mix of costumed dancers and normally dressed bystanders who appear to just join in, and I sadly thought to myself, "Too bad we live in such a small town; something like that would never happen here."
It has happened here in Ann Arbor.
A Bollywood flash mob dance performance surprised festival-goers at Ann Arbor Summer Festival Top of the Park.
And I was lucky enough to be there to see it unfold.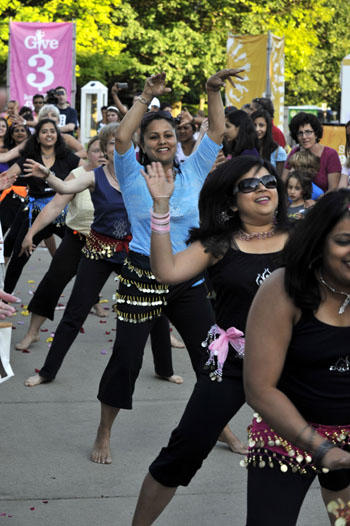 Bollyfit students, Trupti Kulkarni and Anila Rana, participate in a Bollywood flash mob dance performance at Ann Arbor Summer Festival | Photograph courtesy of Peter Smith petersmithphoto.com
At about 7:30 p.m. on Wednesday, June 29, 2011, as the Ann Arbor Summer Festival's Global Party was just catching its stride for the evening — with folks sitting on the grass, listening to the music, and talking with friends — the music suddenly shifted after the end of Los Gatos' set to a distinctive Bollywood beat.
A lone male dancer in front of the Rackham stage issued a call to dance. A group of men back by the TopShop answered his call with a similar dance. A group of small children came alive and danced Bollywood-style, laughing and falling in a great heap.
Then as the Hindi music continued and people started to notice what was happening, groups of people who had been picnicking on the grass stood up and danced in turn as the music apparently moved them towards many traditions of Indian dance. The dancers were of all ages, sizes, hair colors, races, ethnicities, mostly women but some men and children too.
First a group performed classical Indian Bharat Natyam dance with all the wonderful symbolism in the hands and eyes. They were answered by a very cool and sexy Latin-inspired-Indian dance, all hips and swivel.
Opposite them came a group dancing in the earthy and energetic Bhangra style. One spinning dancer in the middle brought forth the fourth group dancing in the graceful manner of Indian folkdance.
Then dancers wearing shiny spangly hip wraps came out of the larger group and filled the two walkways that criss-cross Ingalls Mall for a great joyful celebration of dance and music and movement. In the end, over one hundred dancers filled the grassy area of Ingalls Mall with the vibrant joy and energy of Bollywood.
Anuja Rajendra (in blue) leads Bollyfit students and community members in the Bhangra portion of a Bollywood flash mob dance performance at Ann Arbor Summer Festival | Photograph courtesy of Peter Smith petersmithphoto.com
This flash mob dance performance was the brainchild of Bollyfit creator and CEO Anuja Rajendra. She first made the news after her students Meryl Davis and Charlie White wowed the judges and the world at the 2010 winter Olympics in Vancouver with their amazing Bollywood ice dancing routine.
Rajendra teaches fitness through a fusion of Bollywood, classical Bharat Natyam, Indian folk, and Bhangra dance styles at her Ann Arbor Bollyfit Studio.
She also brings her fun and energizing Bollyfit workouts to the community — her crisp voice full of love and calm — at the Ann Arbor Summer Festival's "alternative happy hour," a series of global-themed mind-body workouts in front of Power Center.
With this flash mob dance performance, Rajendra wanted to create a sense of connectedness in the community that we do not normally get in the bustle of our daily lives, to have a large group of people moving to the same music, dancing the same dance, touching each others' lives for one moment.
Frances Kai-Hwa Wang is a second-generation Chinese American from California who now divides her time between Michigan and the Big Island of Hawaii. She is an editor of IMDiversity.com Asian American Village, lead multicultural contributor for AnnArbor.com, a contributor for New America Media's Ethnoblog, and a contributor for Chicago is the World. She is on the Advisory Board of American Citizens for Justice. She team-teaches "Asian Pacific American History and the Law" at University of Michigan and University of Michigan Dearborn. She is a popular speaker on Asian Pacific American and multicultural issues. Check out her website at franceskaihwawang.com, her blog at franceskaihwawang.blogspot.com, and she can be reached at fkwang888@gmail.com.
An earlier version of this article was originally published in annarbor.com.
Written by frances on July 6, 2011
Filed Under: Frances Kai-Hwa Wang Blog, IMMIGRANT STORIES, LIFE & CULTURE
Tags: Adventures in Multicultural Living, arts, culture, diversity, Frances Kai-Hwa Wang, holidays and celebration, multicultural, parenting